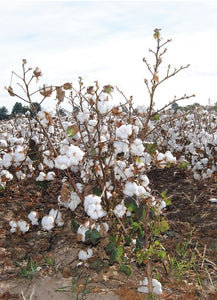 Better for the planet and people
Our favorite eco-conscious fabric organic cotton aka clean cotton.
It uses 91% less water in production and is free of harmful
chemicals and pesticides.
Need we say more?
But all organic cotton is not the same.
The Global Organic Textile Standard (GOTS) is the worldwide leading textile processing standard for organic fibers, including ecological and social criteria. We strictly source 100% GOTS - approved organic cotton.
Free of nasty elements and made with nature
Our garments are dyed with natural, organic, eco-friendly and
non-toxic elements.
We either use pre-dyed yarns and fabrics (overstock)
carefully inspected and sourced from our fair-trade certified factory or let the botanicals, food and flower waste define our color palette. Our dreamy hues spring from coconut shell, tree bark and pomegranate peels.
Non-toxic dyes result into non-toxic water residue, saving our waterways from getting polluted.
Clean Clothing = Clean Waterways.
Ethics + Aesthetics + Mindfulness
Our sustainability efforts don't just stop at raw materials.
Our garments are ethically made by our fair-trade certified factory in Kolkata and naturally dyed by our passionate natural dyers in Mumbai. We've spent months in research and mindfully chosen local supply chain to keep our carbon footprint minimum.
SOS is a culmination of our love for mother earth along with our appreciation for conscious clothing that transcends seasons and will never end up as waste.